Renaming of Gulshan-e-Iqbal in Light of History
PPP leader and Provincial Information Minister Saeed Ghani during discussing demarcation proposals of Karachi city, revealed that there is no relation between Allama Iqbal and name of Karachi's popular area Gulshan-e-Iqbal.
MPA Sindh further said that who claim that Gulshan-e-Iqbal is named after the Poet Allama Iqbal, should read history. Saeed Ghani also surfaced that Gulshan-e-Iqbal was actually Iqbal Goth at first and that Iqbal Goth later became as Gulshan-e-Iqbal.
Video of Saeed Ghani's statement went viral on social media and some accused him of distorting historical facts while most people made humorous comments on his statement.
Some social media users also shared a script of Meri Kitab 'Pakistan Chronicle', which shows that then Commissioner Karachi Syed Darbar Ali Shah had announced on 6 April 1966 regarding renaming of KDA Scheme No 24 of Karachi into Gulshan-e-Iqbal.
Provincial Information Minister Saeed Ghani had suggested during his speech that those people should study history who claim as naming of Gulshan-e-Iqbal after poet Allama Iqbal .
History of
Renaming
of Gulshan-e-Iqbal, Karachi
While analyzing history of Karachi following has revealed:
After analyzing newspapers record of Karachi newspapers, it surfaced that a two-day conference was held on 16 and 17 April 1966 at Bagh-e-Jinnah (Frere Hall) Karachi to pay tribute to Allama Iqbal. Iqbal's scholars from all over Pakistan and representatives from Iran, Iraq, Turkey, Egypt and China had attended the conference.
Ali Bakhsh, a respected employee of Allama Iqbal was also especially called for the conference and he chaired a segment of the conference as well.
National Museum Karachi which was then housed Frere Hall, also exhibited Allama Iqbal's writings, letters, photographs and articles.
The record of this conference was later secured in a book which was later published under the title 'Maqalat Yum-e-Iqbal'.
Study of book Yum-e-Iqbal reveals that Allama Muhammad Hussain Arshi of Amritsar, SM Zafar, Agha Abdul Hameed, Hakim Muhammad Hassan Qureshi, Hakim Ahmad Shuja, Sufi Ghulam Mustafa Tabassum, Maulvi Sirajuddin Pal, and many important personalities also attended the conference who presented their speeches in Urdu.
Moreover, translation of Yahya Al-Khashab's speech was presented by Prof. Muhammad Munawar, Prof. Chen Chi Yu presented his speech in English. While other important personalities also paid tribute Allama Iqbal.
Messages of then President Field Marshal Muhammad Ayub Khan, Governor West Pakistan Malik Amir Muhammad Khan and International Court of Justice Judge Chaudhary Muhammad Zafarullah Khan were also read out during the event.
A concert was also arranged on next day during which Singer Mehdi Hassan and Farida Khanum presented poetry of Allama Iqbal.
Syed Darbar Ali Shah, then Commissioner Karachi chaired the conference during which he presented inaugural papers of the conference, while he presented some impromptu speech before the papers. Some of script of his speech is as follows:
On this occasion, I am very pleased to announce that the Karachi Development Authority (KDA) has launched Scheme No. 24 which is known as Gulshan. This area is planned to upgrade like Gulberg in Lahore. I have approved renaming of this area as 'Gulshan-e-Iqbal' and I have been authorized to announce its renaming formally during this Iqbal Day meeting.
Later the same statement of Darbar Ali Shah, then Commissioner Karachi was prominently published in Karachi newspapers on the next day.
The Script of daily Hurriyat published on 18 April 1966 was as follow
KDA Scheme No. 24 Gulshan has been renamed as Gulshan-e-Iqbal after Allama Iqbal on the occasion of Iqbal Day. Announcement for renaming of Karachi's area was made by Syed Darbar Ali Shah on Iqbal Day celebrated by Old Ravens, on which audience applauded loudly and expressed immense happiness. Apart from this, a guest from Lahore (Professor Muhammad Munawar) gave good news regarding renaming of (Government College Lahore) Quadrangle Hostel into Iqbal Hostel. The guest said that Allama Iqbal had spent a lot of his time as student in this hostel.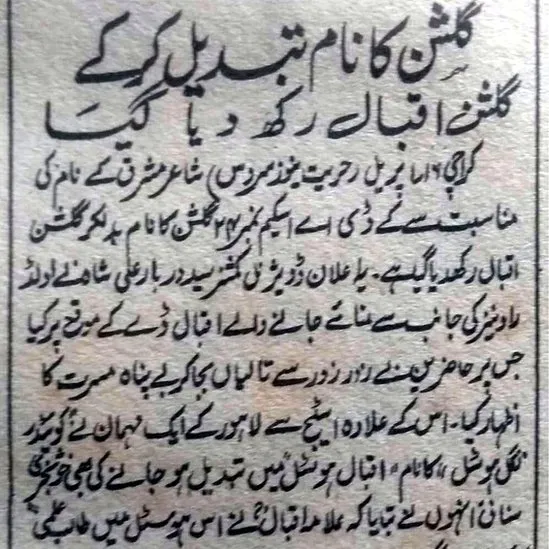 Daily Newspaper Huriyat, Karachi dated 18 Apr 1966
Status of Iqbal Goth, Karachi
As for the case for location of Iqbal Goth, Karachi, It is revealed that Iqbal Goth is located near Sector C-7 (C-7) of North Karachi. Which is too away from Gulshan-e-Iqbal.
Here is the location Iqbal Goth, Sector C-7, Karachi on Google map.